Five years after the ruling All Progressives Congress (APC) led government re-awarded Akpanya, Odolu-Enugu Ezike Road, the road has continued to remain uncompleted and abandoned.
The road was awarded by People's Democratic Party (PDP) in 2017 and was re-awarded by APC in 2018.
The road was started by the contractors but was abandoned halfway leaving residents and users of the road to suffer predicament using it.
The project captured as the Construction of Ogrute-Umuida-Unadu-Akpanya-Odoru was awarded to the tune of N12, 951,207,018.75.
A construction company, P.W. Nigeria Limited, with contact address, Plot 9 Outer Northern Expressway Maitama District, PMB 7016 (Garki), Abuja, Nigeria got the contract to execute the project.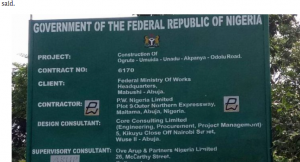 Mr. Ogala Idoko Samuel, a lawyer and a human rights activist, who hails from Akanya, speaking to Media Advocacy West Africa MAWA-Foundation, says the construction of the road will not only assuage the suffering Akpanya people have gone through for decades because of the terrible road but will boost economic activities in the area.
Those traveling from Southeast to Abuja and other northern parts of Nigeria will use the route, which reduces Abuja's journey to 3 hours rather than six hours, the road will also connect southwest through Idah, a local government in Kogi state, Samuel added.
Mr. Ejiofor Eze, who hails from Enugu-Ezike, and often uses the road, in a telephone conversation with MAWA Foundation, said he was born in 1982, and throughout his existence, he has suffered on the road.
"The award of the road is a clear indication that APC-led government knows Akpanya and my community Enugu Ezike occupy a strategic place in Nigeria, I cannot but thank APC for remembering us'" he said.
Worse still, the road construction started and was abandoned while suffering on the road appears to worsen.
The APC government in 2018, in a press statement, released 69 ongoing road and bridge projects in the South-east. And, on the list, Akpnya, Enugu Ezike-Odolu road is among them.
Mr. Lai Mohammed, the Nigeria Minister of Information and Culture, disclosed that the projects were awarded by Nigeria's main opposition party, the PDP during their time in power, but said some of the contracts were poorly executed while some were abandoned, hence APC re-awarded them.