The female ward in Biliri General Hospital of Gombe state has gone terribly deplorable, forcing the evacuation of female patients to the male ward.
Residents who visit the hospital for their medical care, are lamenting over the situation while pointing out that it has led to overcrowding of the male ward, and does not allow for patients to be adequately attended to.
Residents say the Biliri General Hospital which now has a terribly deplorable female ward serves an estimated 50,000 population.
On a visit to the Biliri General Hospital which is about 48 kilometres from Gombe the state capital, one sees a terribly deplorable ward with a collapsed leaking roof that has led to the destruction of the hospital floor, making it completely unconducive for patients to be treated.
Standing outside the hospital is a building used for patient wards with a tattered roof and collapsing windows.  A situation that affirms how terribly deplorable the female ward has become.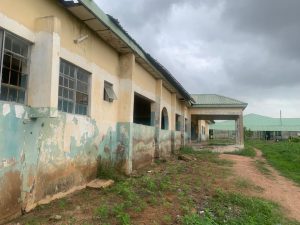 Mr. Gambo, a Biliri resident who spoke to MAWA about the state of the General Hospital, describe the female ward as highly deplorable. Gambo, who confirmed to MAWA that his 32-year-old wife was admitted to the hospital for typhoid treatment, says the female ward is so bad that the management had no option but to evacuate patients to the male ward.
"My wife was admitted to the General Hospital when she had typhoid, I can tell you, I was at the female ward, it is in a deplorable condition", Gambo told MAWA.
He, however, told MAWA that although the female ward is deplorable, the hospital has since its inception delivered medical care to many of the Biliri residents, whom he said rely on it for their healthcare delivery.
Miss Rita, a civil society member who spoke to MAWA, described the healthcare system in Gombe as poor while urging the government to adequately fund the health sector.
Rita, told MAWA, that in many of the rural communities in Gombe State, there are numerous cases of deplorable healthcare, while residents travel far distances in search of medical care.
Rita who spoke in a very worrying tone, says there are a good number of rural communities in Gombe State without any form of healthcare, a situation she said is responsible for the death of women during childbirth and children who do not get immunized.
Tracka, a public accountability organization that first exposed the deplorable condition of the General Hospital, has since appealed to the Gombe State Public Health Emergency and Mr. Muhammadu Inuwa, the state Governor to fix the problem.
MAWA-Foundation could not immediately reach out to the Gombe State Government and the General Hospital Management for official responses.