Residents of Kanzo community in Kuje Area Council of the Nigerian capital city are dying over none availability of a hospital. They say pregnant women and children are the greatest casualties with maternal and infant mortality on the rise.
A visit to the community shows it has no hospital despite having existed for decades. The community who are predominantly farmers say they rely on a healthcare facility and traditional birth attendants at Kwakwu community which is 5 kilometres away for healthcare services.
Besides the none availability of a hospital, Kanzo community does not have an access road. The only accessible road from Yangoji-along Abuja Lokoja express road is so terrible to the extent that cars cannot ply on it. Also, the use of motorcycles on the road has become very difficult as its dilapidated state makes it impossible for bikes to move freely.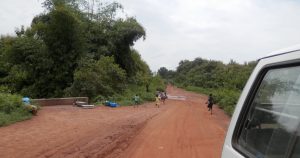 From Yangoji, one struggles to move in muddy pathways ridding about 25 kilometres to Kanzo, a community with over 150 households with a total of 300 populations thereabout.
A community resident who prefers his name not to be mentioned spoke to MAWA Foundation on the telephone and described how some pregnant women have had miscarriages while moving from Kanzo to Kwakwu to receive healthcare services as a result of bad road.
"We have had cases where women had miscarriages and lost their babies on their way to Kwakwu because of the terrible nature of the road," the resident told MAWA.
Worse still, community residents told MAWA Foundation that during elections, politicians visit to canvass for votes and promise good roads, hospitals, and schools. But, disappears as soon as the elections are over.
"As soon as the community votes them into office, they vanish until after four years when they will be seeking election into office again. They return to the community and deceive them with more promising and convincing lies" a youth leader told MAWA Foundation.
A youth leader who explained the situation in Kanzo disclosed that women and children are dying of illnesses that can easily be cured. He, however, pointed out that many of the residents have resorted to the use of traditional herbal medicine. A practice he condemned for not being safe for human health.
A group of women who spoke to MAWA, said they rely solely on the traditional birth attendant during childbirth. A practice they have since approved, but however, appealed to the government to help train the practitioners for an improved capacity to effectively function.
"All the women including men in this community rely solely on the traditional birth attendants for healthcare. We appeal to the government to train them to enable them to perform better" the women told MAWA.
Kanzo community has continued to be without a functional hospital even as the Federal Capital Territory Administration (FCTA) in 2020 alone budgeted N1.3 billion for the upgrade of Primary Healthcare across communities in FCT.
Kanzo community is not an exception. Many communities in FCT are without hospitals, while the available ones are either deplorable or poorly funded. This makes it impossible to deliver quality healthcare to the people. A development that is contributing to the high rate of maternal and infant mortality in Nigeria.
If Kanzo community is allowed to continue without a hospital, the residents will suffer healthcare delivery. The implication is a likelihood of maternal and infant mortality rate hike. A development that has become common in Nigeria and needs urgent attention if the country will meet sustainable Development Goals- SDGs (Goal 3: Good Health and Well-being).