Pregnant women and children are dying in Shanagu Ikwa community in Gwagwalada Area Council of Nigeria's Federal Capital Territory (FCT) over poorly equipped hospital.
Residents say they are worried because an estimated 2,500 population from the community depend on the hospital for healthcare delivery.
Mr. Usman Mohammed, a community champion who raised the alarm over the incident, disclosed that the community Primary Health Care has only one staff and three volunteers making it impossible for effective healthcare delivery. And, this practice in the hospital has continued for over five years.
Apart from the lack of personnel in the hospital, it also lacks medicines. Because of the inability of the community hospital to provide effective healthcare delivery, residents are forced to commute to Zuba which is about 15 kilometres away in search of healthcare delivery. MAWA-Foundation learned that some deaths had been recorded especially pregnant women while commuting the long distance to Zuba for medical care.
"Because the community hospital is not equipped, deaths especially pregnant women and children have been recorded, some died on their way to Zuba to access healthcare", Mohammed said.
Shanagu Ikwa community is not an exception, there are many communities in FCT without healthcare facilities. And in some communities where healthcare facilities are found, they are often underfunded and not equipped with many of the residents resorting to private hospitals or herbal medicine as an alternative healthcare delivery.
This has continued to be the case in FCT and other communities in Nigeria despite the massive amount of monies that are allocated to health every year.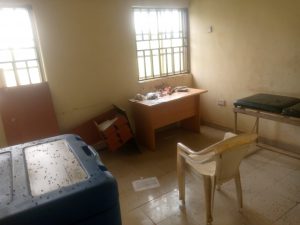 For instance, three years ago, the Federal Capital Territory Administration (FCTA) in its 2020 budget allocated N1.3 billion to upgrade Primary Healthcare across communities.
The FCT authority through her former minister of state Ramatu Aliyu, said the idea of setting aside such a huge sum of money was to provide adequate and effective health service delivery to those living in FCT.
Despite a huge amount of money allocated to healthcare delivery in FCT, communities continue to suffer a lack of healthcare delivery with a high rise in maternal and infant rates.
MAWA-Foundation could not immediately reach out to the Gwagwalada Area Council for an official response.