The Dutse Alhaji residents' hope of having Primary Health Care has been dashed as a hospital construction in their area has since remained uncompleted eight years after it was commenced.
The project located at Zone 6 in Dutse Alhaji area of Bwari Area Council in Federal Capital Territory (FCT) Abuja, was awarded in 2014. And, it is now being occupied by water vendors who have turned it into their personal abode.
When MAWA Foundation visited the construction site, there was no worker seen while the place was overtaken by grasses.
Mr. Musa Ibrahim who is one of the water vendors told MAWA officials that they have been living in the abandoned hospital for over two years.
Asked if he knows that where he lives is meant to be a hospital, he said no, but confirmed he is aware that it is government property while pointing out that living in the uncompleted hospital is a way to benefit from the government.
Another occupant told MAWA Foundation that he wishes to see the project abandoned, so they will continue to use it as their home.
The project being executed by the Federal Capital Territory Administration was awarded to Rafi Consolidated Service Limited.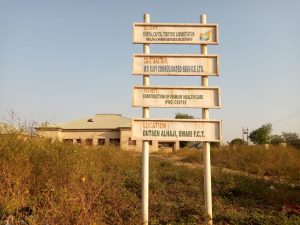 Checks on the status of the company on the Corporate Affairs Commission (CAC) website show it was registered on May 4th, 1997 with an operation office at No.1, Ibrahim Dasukiroad Sokoto the capital of Sokoto State.
However, the company's status remains invalid, an indication that it does not file an annual return as obligated by the law, a stand that was confirmed in our conversation with the CAC official.
"Inactive status shows a company does not file an annual return, and this is a breach of law that comes with sanctions," the CAC official told MAWA via a telephone conversation.
Under Nigerian law, all companies registered and operating in Nigeria are obligated to file annual returns to the Corporate Affairs Commission (CAC).
And, part of the requirements for a contract to be awarded to a company is tax clearance and an annual return to the CAC.
Worse still, despite the Rafi Consolidated Service Limited's failure in this obligation, the Federal Capital Territory Authority FCTA ignored the standard process and awarded a contract to her, an action that seems a violation of procurement rules.

Mr. Dahiru, an insider source who preferred only his first name to be mentioned, told MAWA Foundation that over 70 percent of the money had been paid to the contractors handling the project and wondered why they had abandoned the project.
You cannot collect 70% payment and abandon a project Dahiru told MAWA Foundation.
Miss. Chidinma Nkemakolam, a lady, who sells charcoal in front of the abandoned hospital told MAWA Foundation that the last time workers were seen on the site was sometime this year when they came to erect a fence on the entrance point.
She appealed to the government to complete the project saying it would give over 50, 0000 residents living in the community access to quality healthcare delivery.
Mr. Edache Philips, who lives opposite the hospital while speaking to MAWA condemned the government's attitude of leaving it uncompleted for years.
"When they began constructing this hospital, we were happy that the healthcare challenges we suffer have come to an end, that expectation has since been dashed, eight years after nothing has been achieved," Philip said.
Rafi Consolidated Service Limited is not the only offender, across communities in Nigeria, there are huge numbers of abandoned projects with money paid to contractors by the government.
Often, government officials award contracts to their cronies and in some cases to their companies.
The practice is that they collect the money, start the project, and simply abandon it midway.
In some instances, the projects are not commenced at all while government officials and contractors simply collect the money and disappear.
MAWA-Foundation could not immediately reach out to FCTA for an official response