Farmers in the Dobi community of Gwagwalada Area Council of the Federal Capital Territory (FCT) Nigeria's capital city have attributed their low harvest to climate change impact. Pointing out how the change in weather conditions brought by climate change is becoming a major threat to their survival.
Driving into the community that is about 30 kilometres away from Gwagwalada Area Council, on both sides of the road are massive lands that resemble deserts. An indication that welcomes visitors to the community with the feelings of how a change in weather is impacting the environment.
In a focused group discussion with the community farmers and MAWA-Foundation officials, the farmers in different accounts explained how the change in weather they attributed to climate change is affecting their farms, livelihoods and leading to them recording poor harvests.
In their respective narratives, one area the farmers said they have been badly hit is the destruction of their yam tubers by the excess heat coming from the change in weather that is happening as a result of climate change.
The farmers took time one after the other to recount how their yam tubers were decayed inside the storage facilities, forcing them to lose income and pushing them into poverty.
According to Mr. Sani Luwa, one of the farmers that participated in the discussion, the longtime tradition of storing yams in the community has been the use of green leaves to preserve them. But because the current hotness in weather conditions has made it impossible for green grass to grow in the bushes, farmers are forced to store the yams inside a house. Reacting to Luwa's narrative, the farmers in uniform voices, say excessive heat from the hot weather is making their yam tubers decay inside the storage facilities.
"Our yam harvest is getting spoilt inside storage facilities as a result of excess heat coming from the change in weather conditions, we are losing money and that is not good for us," Luwa said.
Apart from losing their yam tubers to heat, the farmers pointed out how the change in weather conditions which they largely blamed on climate change is breeding pests that are destroying their crops and the fertility of the soil. A condition the farmers say is complicating their predicament with no viable solution available to them.
Mr. Abu Aso, another farmer that participated in the discussion, explained how they are witnessing an acute shortage of rainfall, a development he said was a result of weather change. This, he said is a major contributing factor farmers in the community witnessing low harvest.
Affirming Aso's explanation, the farmers in an affirmative voice, said the acute shortage of rainfall being experienced in the community, has forced them to change their farming and planting circle, which is not favourable to the crop they grow.
Mr. Joseph Garba, one of the farmers at the discussion, narrated how the change in weather and its consequences have brought poverty and hunger to the community. This is even as he pointed out that the farmers despite suffering from the climate change impact are also contending with the challenges of Fulani Herdsmen who he claimed are grazing on their farms and destroying their crops, leading to the complication of their suffering.
"This climate change is a terrible thing for we farmers, it has brought poverty and hunger, we are recording huge low harvest, how do we survive under this condition," Garba said.
The farmers at the discussion affirmed their knowledge and awareness of climate change but pointed out that crop rotation (shifting cultivation) they had relied on as a traditional method of climate change adaptation has become impossible for them to practice.
Speaking in a very disturbing tone, Mr. Danjuma Ishaku, a farmer, said shifting cultivation has become very difficult for the farmers because there are no more available lands to rotate their crops because the government has taken over a huge portion of their community lands.
"Our population has become bigger than the available lands, we cannot practice crop rotation which is our traditional way of climate change adaptation, and the government has taken over a huge portion of our community lands," Ishaku said.
The farmers who said they need support to survive the current climate change consequences called on the government and development partners to help in providing loans, seedlings, agricultural tools, and training for them. They said that will help them survive what they described as a major threat to their livelihoods.
Mr. Jude Jide, an environmentalist, who spoke to MAWA officials in his office located at Amazon Street, Maitama Abuja, Nigeria's capital city, described climate change impact on rural communities across Nigeria as a damning consequence the government must rise up to address immediately. According to him, his office last two months commissioned research on the impact of climate change in northern Nigeria, and what they found so far threatens the mind.
He, however, said he will bring the ministries of environment, agriculture, and other major actors to a meeting to discuss their findings and find solutions.
"In the last two months, we commissioned a study to look at climate change impacts on farmers in Northern Nigeria, what we found threatens the mind, the government has to immediately act," Jide told MAWA officials.
From our findings in the focused group discussion with the farmers, it does appear that the Nigerian state and the development partners, do not have good knowledge of how climate change is impacting communities across the country with the farmers being the worst hit.
Therefore, we call on the Nigerian State to go beyond policy documents, political pronouncements, and foreign workshops that make her look good before the comity of nations, to immediately begin interventions that will address climate change and bring considerable results.
And, in doing that, the local actors within NGOs, researchers, advocates with a track record of working in climate change must be brought on board for intervention design and implementation.
That way, we will not have interventions that are alien and are expected to solve local issues. This approach will not only contribute significantly to addressing climate change but will create local platforms that will allow for community ownership that will solve other societal problems.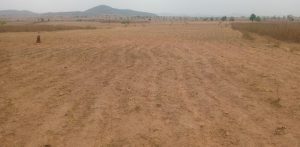 This report was produced by MAWA Foundation with the support of MEEDAN