Farmers in the Yaba community in Abaji Area Council of Federal Capital Territory (FCT), Nigeria's capital city are recounting how climate change is impacting them and pushing them into hunger and poverty.
Driving from Abaji Area Council Secretariat to the Yaba community is about 47 kilometres. From the Lokoja-Abuja highway junction close to the Kwaita community, on the road to Yaba, on both sides, one sees massive dry flat lands with Fulani herdsmen roaming about with their cows. The massive dry flatlands welcome visitors into the Yaba community with the greetings of hot weather which shows a confirmation of how climate change is beginning to impact the community.
The only farmlands seen on the way to the Yaba community are Maize irrigation farms owned by farmers who can afford them because of their expensive nature according to the community farmers who spoke to the MAWA-Foundation officials.
In a focused group discussion of farmers with MAWA-Foundation led by Mr. Muazu Yaba, a prominent farmer in the Yaba community, each of them shared narratives of how they have been adversely affected by the weather change which they all attributed to climate change.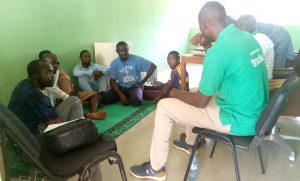 One area the community farmers emphasized climate change's impact on them is on their yam. In similar narratives, they recounted how their yams were spoilt in the storage facilities as a result of excess heat which was not the case in the previous years.
Mr. Aliyu Bashir, a farmer that participated in the focused group discussion, explained how he lost over 200 tubers of his yam to excess heat. According to him, the yams started decaying when they could not withstand the hot weather. In his narrative, the Zink roof and the wall where the yams are being stored became extremely hot leading to the spoilage of the yams inside the storage facility.
According to Bashir, who claims to be over 40 years, at no time has the community witnessed the kind of hot weather that is prevalent now. This he said is hugely affecting farmers' productivity and pushing them into poverty.
"I am over 40 years, in my lifetime no time have we witnessed this kind of hot weather that is destroying our yams and other crops like this year," Bashir said
Affirming Bashir's narrative, Mr. Garba Yakubu, who is one of the participants, pointed out that the greatest fear is that both the tubers of yam and seedlings are been destroyed by the heat from the hot weather, a condition he said will make planting of yams in the next season very difficult for farmers.
He, however, pointed out that other crops such as maize, millet, guinea corn, rice, and animals inclusive are badly affected by the change of weather.  Yakubu said animals are witnessing stunted growth while others are dying as a result of excess hot weather that is generation unbearable hit.
The farmers in affirmative voices narrated how some community farmers are suffering from eye problems, typhoid, and skin rashes. A condition they have since attributed to excess hit from the hot weather
In the discussion, the farmers affirmed their knowledge of climate change but however appealed to the government to explore the use of agricultural extension to educate and create huge awareness about climate change among the farmers.
Mr. Yaba who led the group to the focused group discussion pointed out that educating farmers about climate change is very important because a huge number of illiterate farmers do not have knowledge about it and have continued to believe that the poor harvests and the destruction of their yams at the storage facility are as a result of the handiwork of witches and wizards with their enemies behind it.
The community farmers shared information on how they rely on local knowledge which is the use of crop rotation (shifting cultivation) and irrigation as a means for climate change adaptation.
However, they pointed out that not many farmers can afford irrigation farming because of its expensive nature. They appealed to the government to help farmers to be able to embrace irrigation farming. This is even as they say some of them who make attempts to approach banks for agricultural loans for irrigation farming were not successful as a result of high-interest rates which many of them cannot cope with.
Mr. Mohammed Saidu, one of the farmers that participated in the discussion, recounted how they had made attempts to get loans from the bank to support their farming but could not because of high-interest rates and other conditional requirements they cannot meet.
"I doubt if there is any farmer in this community that has been able to access a loan, the interest rate and other conditional requirements are difficult for farmers to meet, that makes irrigation farming which is a better way for climate change adaptation difficult," Saidu said.
A senior official from the Abaji Area Council Department of Environment, who spoke to MAWA official and prefers his name not to be mentioned, said they are working with the rural farmers to address the impact of climate change.
According to him, one way the Area Councils is reaching out to sensitize the farmers on climate change is by using agricultural extension techniques.
"We are working with our communities, educating them on climate change and supporting them for mitigation and adaptation," the official told MAWA.
Although the Nigerian State has since established Climate Change Council, created the Department of Climate Change under the Ministry of Environment, and has participated actively in global conversations regarding climate change, the country is yet to show concrete commitments to addressing climate change beyond political pronouncements and using it for international relation consolidation. This is even as the government and its officials have little or no knowledge of how climate change is impacting rural dwellers, especially the farmers.
This report was produced by MAWA Foundation with the support of MEEDAN