Farmers at the Kwaita community in Kwali Area Council of Federal Capital Territory (FCT), Nigeria's capital city have continued to recount how they lost over 65% of their yam harvest to excessive heat caused by hot weather as a result of climate change.
In the community that is predominantly farmers located a few kilometres from Kwali Area Council Secretariat, driving into it from the Abuja city centre, one sees on both sides of the road flat drylands that show how the hotness of weather is leading to the disappearance of green vegetation.
In a focused group discussion with the farmers and MAWA-Foundation officials at the community market, in different narratives, they recounted how they have lost a huge part of their yam harvest to climate change with Mr. Alkali Obadan, a farmer who led his colleagues to the meeting pegging the lost at 65%. A figure he said was arrived at after obtaining information from other farmers regarding their loss as a result of excessive heat this year.
According to the farmers, they lost a huge portion of their yam harvest to excess heat that is emanating from a change of weather, a condition they attributed to climate change while appealing to the government to implement interventions that will address what they call the greatest threat to farmers and food security.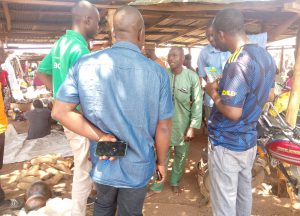 Recounting their ordeal, Mr. Obadan said yams are getting spoilt in the storage facilities as a result of heat from a change in weather. He, however, explained that before now, farmers use grasses and green leaves to protect yams from excess heat to preserve them. But because of a change in weather that comes with hotness and dryness, there are no more grasses and green leaves in the bushes, a development he said has forced the farmers to store their yams in their houses in rooms that are under excessively hot weather.
"Our yams are spoiling inside the storage facilities as a result of excess heat from the weather condition, we are losing money, and each of us has stories of how he lost a huge harvest to hot weather," Obadan said.

"Information from farmers in our community shows we have lost over 65% of our yam harvest to excess heat as a result of a change in the weather condition" Mr. Obadan disclosed.
Although the farmers that took part in the focused group discussion, affirmed their awareness of climate change, they pointed out that a good number of them in the community believe the poor harvest and the loss of their yam tubers to hot weather is the handiwork of witches and wizards who are out to frustrate their efforts.
Mr. Obadan explained how the farmers in the community educate and sensitize each other about climate change in peer groups. An approach he said is informal and the most effective way of educating farmers for a proper understanding of how to carry out adaptation and mitigation.
"As farmers, we educate ourselves about climate change using peer groups, that is the best informal way of sharing information among ourselves, it is the most effective way of sensitizing ourselves," Obadan said.
The farmers in affirmative voices explained how they rely on the traditional methods of crop rotation (shifting cultivation) and irrigation farming as means of climate change adaptation and resilience.
"We are adopting the traditional method of crop rotation as a means for climate change adaptation and resilience, it is not a new approach, it is a local knowledge we inherited from our fathers," Obadan said.
Mr. Philip Isaac, one of the farmers that took part in the focused group discussion, pointed out that although irrigation farming can be of great help for climate change adaptation, it is expensive and many of the community farmers cannot afford it.
Mr. Daniel Elifha, an Ecological Heath Officer from the Kwali Area Council who was also part of the focused group discussion, corroborated the farmers' narratives of how climate change is affecting them. He, however, did not share what the Area Council is doing regarding climate change mitigation.
Our interactions with the rural farmers, show climate change is impacting communities hugely in a way that is not known by the government and a good number of the citizens.
Therefore, there is an urgent need for the Nigerian state and climate change advocates to commence interventions with a practical designed approach having clear measurement indicators targeted at addressing it at its core.
Nigeria's approach to addressing climate change that depends largely on policy documents, legislation, and participation in international meetings and conventions that is yet to be translated into a concrete measure of solving climate change consequences and must be immediately changed to a more practical measurement indicator of solving the problem.
And, in the climate change policy formulation, the state must involve the rural inhabitants, especially the farmers. That way the state will put in place an effective and efficient policy that will go a long way in addressing climate change.
We have found that one area that has been ignored in climate change advocacies is rural awareness and that is widening the huge knowledge deficit among the rural inhabitants.
We, therefore, appeal to the development partners, environmental activists, researchers, Non-Governmental Organizations (NGOs), and the larger part of Civil Society, to make huge investments in climate change education and awareness in rural communities. That way the knowledge deficit will be closed and solutions to adaptation and mitigation will be easily found with the locals playing an active role that will ensure success and sustainability.
This is most fundamental because the locals must have an adequate understanding of climate change and its consequence before they can embrace adaptation and mitigation which is most central in addressing the problem.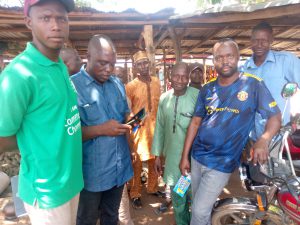 This report was produced by MAWA Foundation with the support of MEEDAN